Online Safety
Click here if you believe your child is at risk online!
Click Here If You Are Worried About Child Sexual Abuse
What is Online Safety?
Online Safety means knowing about potential threats when you are online; knowing what you can and cannot (legally) do when you are online; and knowing how to protect yourself from some of the risks that are involved in using the internet. Online Safety covers 'All fixed and mobile technologies that children and young people may encounter, now and in the future, which allow them access to content and communications that could raise issues or pose risks to their wellbeing and safety'.
Click Here to report harmful content online
Use the links to the right of the page to visit the websites listed.
Filtering and Monitoring at St Peter's School
To enable safer online browsing at St Peter's School we use a filtering system provided by Smoothwall. The same filtering system is used by all schools across the Cam Academy Trust and is provided by the county. Smoothwall's web filtering scans the copy, content and context of every page for unwanted material and has 120 filtering categories which can be used to tailor the web browsing experience to ensure that harmful content is out of reach. The main focus of the filtering system are sites containing child sexual abuse, terrorism and adult content but are not limited to these. At the same time the filtering system does not over block and does not lead to unreasonable restrictions as to what children can be taught with regards to online teaching and safeguarding.
In addition to the filtering system described above we have two monitoring systems in place. One is provided by Smoothwall and the other is NetSupport DNA. These systems monitor everything staff and students type either into a web browser or into any type of document. Alerts are sent when users type content that is cause for concern. These events are categorised based on risk and there are different notifications depending on how severe it is. Alerts from low level events are stored in both systems and the designated safeguarding lead and the online safety lead can view these at any point to determine if further action needs to be taken. Alerts for medium level events generate an email to prompt the safeguarding team to check the system and it gives enough context to be able to determine the risk factor. High level events are monitored by external staff at Smoothwall and they will phone the school as soon as something happens that requires immediate action.
Classification Of Online Risk - The 4 Cs
The CO:RE 4 Cs classification recognises that online risks arise when a child:
engages with and/or is exposed to potentially harmful CONTENT;
experiences and/or is targeted by potentially harmful CONTACT;
witnesses, participates in and/or is a victim of potentially harmful CONDUCT;
has access and is exposed to potentially harmful COMMERCE.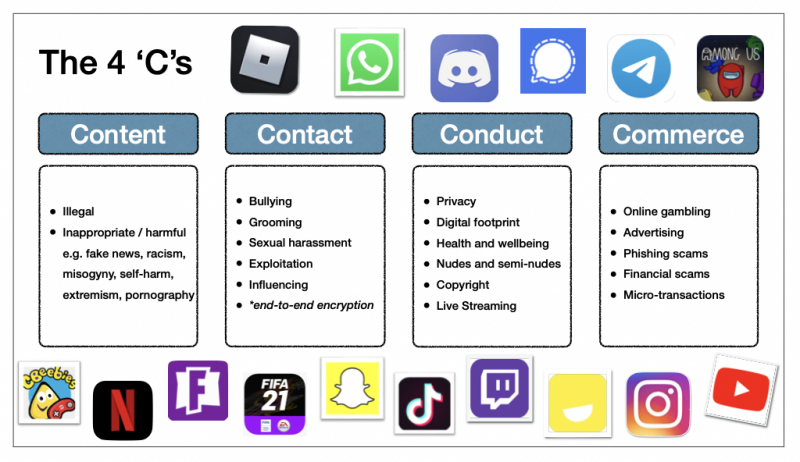 Online Safety and Covid-19
Click here for information about how parents and carers can keep children safe online and where to go to find support and advice.
Click here for guidance on staying safe online, which includes information on security and privacy settings.
Online Safety Contacts
If you would like to contact a member of St Peter's Staff about Online Safety or if you are concerned about your childs welfare then please contact the following people.
You can also contact your relevant Head Of Year.