Join Us
St Peter's is a good school and is focussed on supporting students to learn, aspire and exceed and providing a place where teachers and support staff can thrive in a positive, inclusive atmosphere and develop professionally.
If you are interested in your child joining the school please read the admissions policy and in year admissions sections. All admissions to Years 7 -11 are co-ordinated by the Cambridgeshire County Council admissions team.
Staff Wellbeing: Case Study - St Peter's School
Prospectus
Our Year 7-11 and Sixth Form Prospectus can be found by clicking on these links.
Staff
If you are interested in joining the staff at St Peter's please explore the links or complete the Contact form.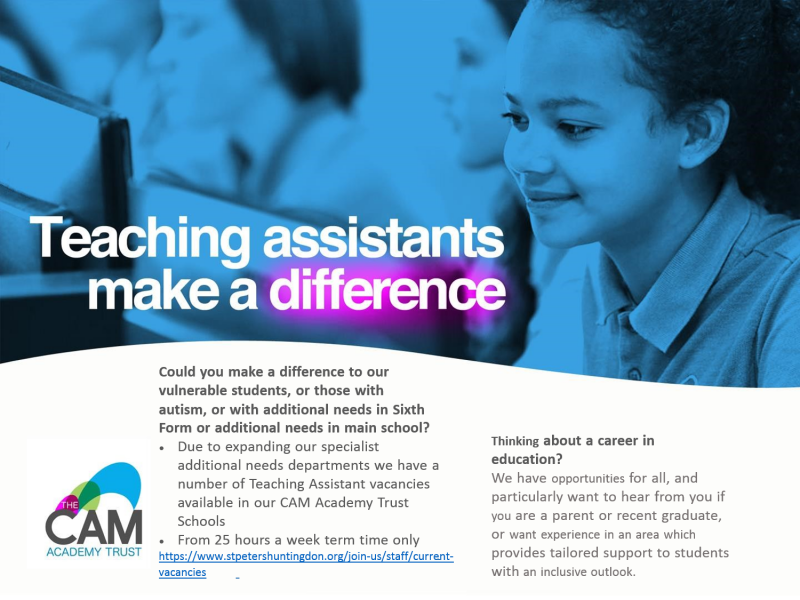 Visit Us
Visits to the school are welcomed and we encourage you to come and see our fantastic learning environment, supportive departments and allow us to demonstrate our pride in the school, good morale and employee engagement. A caring and supportive environment for both staff and students.
School Security
All visitors to the school should report to Reception where they will be asked to sign in and be issued the relevant visitor badge. A member of staff will meet and escort their visitor at all times whilst they are on the school site. They will be issued a red visitor badge. If a visitor has an enhanced DBS clearance certificate via their employer they will be issued a green visitor badge, this indicates that we have seen their DBS and that they do not need to be escorted whilst on the school site. Visitors must sign out at the end of their visit and hand in their visitor badge. All visitors must adhere to the site rules and emergency procedures.
Delivery/collection drivers will be escorted to a secure area on site by a relevant member of staff, supervised at all times and escorted off site by a member of staff. They are not expected to sign in or out as their time on site is very brief.
If you would like to visit the school or require further information please contact us on office@stpetershuntingdon.org
Facilities for hire
You can also hire our facilities, follow the links in the menu to the left to find out how.