Art
Contact - D Glover - Head of Art - dglover@stpetershuntingdon.org/
The importance of Art & Design
Art and design allows students to explore visual and tactile elements to communicate ideas and meanings. In lessons students work with a variety of media to develop their confidence, competence, imagination and creativity. They learn to appreciate and value images and artefacts across times and cultures. In art and design, students reflect critically on their own work and the work of others, judging quality, value and meaning. They learn to think and act as artists, craftspeople and designers, working creatively and intelligently. They develop an appreciation of art, craft and design, and the vital role the creative and cultural industries have in enriching their lives.
Learning through undertaking activities in art and design contributes to achieving the curriculum aims for all young people to become:
Successful learners who enjoy learning make progress and achieve

Confident individuals who are able to live safe, healthy and fulfilling lives

Responsible citizens who make a positive contribution to society.
ART DEPARTMENT AIMS
To develop students' understanding of the elements of art and design and the characteristics of materials, tools and techniques to enable them to implement their ideas.

To engage, inspire and challenge each student irrespective of ability to reach their full potential.

To develop students' capacity to learn about and observe the world in which they live.

To enable students to communicate ideas using written, visual or verbal language and to use materials with confidence.

To develop students' ability to value the contribution made by artists, craft workers and designers and to respond thoughtfully, critically and imaginatively to ideas, images and objects of many kinds and from many cultures.

To provide a stimulating visual environment for students to work in.

To make students aware of how art and design can reflect history and culture and how in current society it contributes to the diversity and wealth of our creative industries.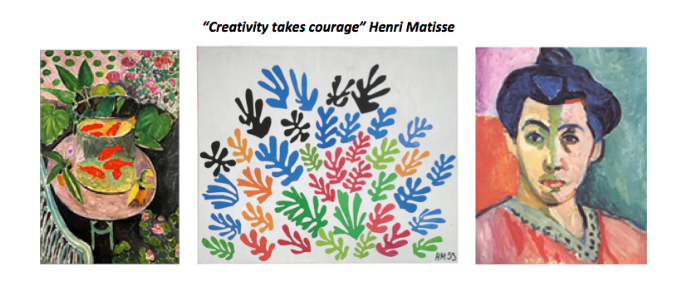 The Goldfish 1910 - La Gerbe 1953 - The Green Line 1905 (potrait of madame Matisse)
Contact Us
The Art Department is made up of experienced teachers who have a wide range of skills and knowledge of art. The department has three classrooms, a small Mac suite and studio space dedicated to the sixth form enabling them to undertake private study.
| | | |
| --- | --- | --- |
| Name | Position | Email |
| Dawn Glover | Head of Department | |
| Lee Cartwright | Teacher of Art | |
| J. Maddocks | Teacher of Art | |